Tales from a fight
Author: Daniel Hautzinger
Translators: East Kha
The U.S. Marine Corps in the Vietnam War (Photo : Cut from YouTube)
Andy
Touching story about promise 40 years of US soldier with a baby Hoi An
Phil Seymour is sergeant of platoon from C, Battalion 1, Regiment Marines, Marine divisions 1 of Hoa Kỳ , he went to Vietnam in May 12 year 1966 and was wounded only 1 months later.
Month 6 year 1967, Phil stationed in a small island near Hoi An - Da Nang, but frequently to the mainland and visit in Hoi An. During such trips, Phil often carrying a little dog behind his backpack. This dog named Boot Notes, is he at once marched in the forest. At that time not yet weaned Boot.
Every time Phil and team sailing trip to the mainland, the kids in the village rushed to to ask for the kind of "American map" like candy, canning and tobacco. Often US troops will divide these kids in their diets.
Among those children have a name Cam (possibly Cam, Hold…), always wearing blue pajamas and barefoot. Orange flurry as the other kids that stand backwards slightly. US troops initially thought Cam shy, but then they realized that very wise Orange: He was not to apply by hand, which brings local food like coconut, banana, lemon ... to exchange. So Cam is being Americans cherish.
One day of the month 6 year 1967, boy Cam - 9 old - donated a banana for Phil. Sergeant Phil Seymour now preparing to leave this central area to stay 1 weeks in Thailand. Phil asked Cam that he wants what he gave gifts. Actually a poor boy sucking pig in this village will not know that Thailand is where, there is something to which requires. He did not speak English very well, Think 1 bit then he pointed to the clock that Phil was wearing. Sergeant Phil agree.
When in Thailand, Phil forgotten lost promise of the clock. Actually a traveling soldier on leave, only thinking of playboy, no need to go shopping. All furlough, back to Hoi An, then meets Cam, he was recalled to the clock service. When seeing Phil on, Cam rushed to, cheerfully.
But no clock at all.
Soon after, Phil's unit left this land to the demilitarized zone, then months 1 year 1968 he left Vietnam.
Phil said that his life is very calm, do not have many things he regrets, except promise not done with a boy in the poor rural areas of this central Vietnam. It is the greatest joy in my life regretting his. He has also brought joy thought would have regretted it under until it died.
Phil Seymour is a native of Brookline, Massachusetts, in the military more 27 year, then get a master's in law and became a lawyer at the Pentagon, then as chief prosecutor before retirement years 1995. He thought that he could not return to Vietnam again.
Tuy nhiên vào năm 2007, Phil's wife Lynne him that joint tourism group that grandparents often participants will have a trip to Southeast Asia and stop in Hoi An. Lynne said he was considering joining this trip, is also an opportunity to look back and realize the promise Orange 40 previous year.
Until Phil return to the Hoi An has become a famous tourist city, UNESCO's World Heritage site because of its architecture virtually unchanged compared to the time of establishment century 15, where bustling trade of the Vietnamese to Chinese, Japan and Europe later.
Phil thought the opportunity to rediscover the Orange almost the 0. Cam could not know that could survive the war or not, because this area is very fierce ancient. But Phil was carrying a travel clock in this.
Group travel guides Phil is a Hanoi, said that he knew a lot of people in Hoi An so, will help Orange. Surprisingly, after all these years, Phil still has some pictures of the Orange family to portable inquire.
After arriving in Hoi An, get a hotel room, it's time he finished guides the Vietnamese call Phil down and across the street. Not know how, the guide has found a man's blue hat, This man looked at the picture of Phil and told his father in the picture is taken with 3 Nguoi with, the youngest son in the green hat is this person, and Cam is his brother. At that moment, His commitment to the phone to call.
Phil hurried up to get hotel cameras and watches, and ran down. Once bandaged passerby, Phil also saw Cam to, This time Orange is a man 49 age, carpenter.
Guides explain Cam understand story. He bewildered, can not understand that someone has to go halfway around the world just to meet him and put the clock.
Guides only Phil then asked Cam is this man not remember, Cam Answer: "There, He often carried the little dog on his back ". Guides asked about promises watches 40 years ago, Cam Answer: "There, Meanwhile new tui 9 age, speaking America babbles, should think there were certain misunderstandings ".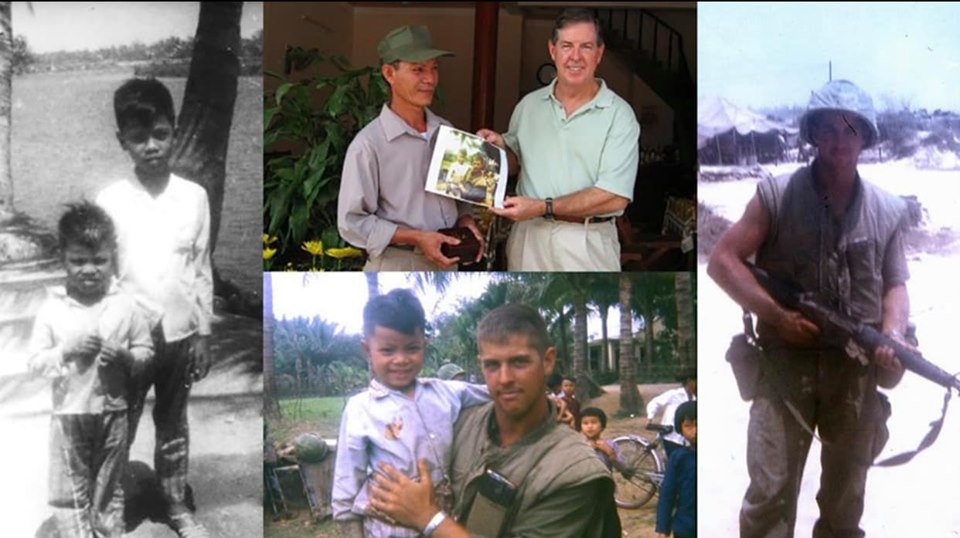 According clockwise from left: Orange and brother; Cam and Phil Seymour in reunion 40 years later; Phil Seymour in Vietnam as a Marine Corps soldiers; Cam and Phil Seymour year 1967. Source: Phil Seymour
Phil and guides explained to Cam understand that there is no misunderstanding at all, just because Phil broke his promise.
Phil gave Orange watches. Orange UK to tears. They hugged each other and cried.
The next day he invited Phil Cam came home for dinner. His wife called Blossoming, and daughter Vy name for meal preparation, the couple also Phil - Lynne and he guides eating. Customs of Vietnam is the only guest to eating, and eat, then goes on.
Vy - his first daughter Cam - then 28 age, recently married, said she'd been to college as 4 his brother, but in this country women are often disadvantaged, little education college.
On the way to the hotel, Lynne - Phil's wife - thought and offered to try to help Vy to college. With the touch, His help guides, Vy was going to school in Saigon with 4 brother went to school in the previous. Vy received by inter-year 2010 and a bachelor's degree in 2012.
Phil returned to Vietnam - perhaps the last time - in 2012 to attend the graduation ceremony of Vy. They also buy airline tickets for spouses Cam - Blossoming in Saigon. That was the first time Orange is flying, countless gifts he brought home to open a celebration at the inn of Vy. Lynne and Phil even gave it a microwave to help her cooking convenience.
Current Vy is working in Saigon, still regularly call for the couple Seymours.
A great promise as very small, Innocuous, but haunted soldier named Phil in 40 year, tantalize him the n
sad memories of a country suffering, scattered. He is determined to find him in the past to drive away that headache inside. Phil said:
"If I promise to an adult that I will not be carrying a nagging regret such. Over here I promised a good-hearted kid, innocent. It does not swear or anything beg, facial always have a smile ".
War brings unhealed wounds in the hearts of the soldiers fighting. Cam main innocence kids for candy and other assuage concerns uneasy inside expeditionary soldiers, help them calmly than to overcome the extreme circumstances of war.
Add some photos of Post. Source: Phil Seymour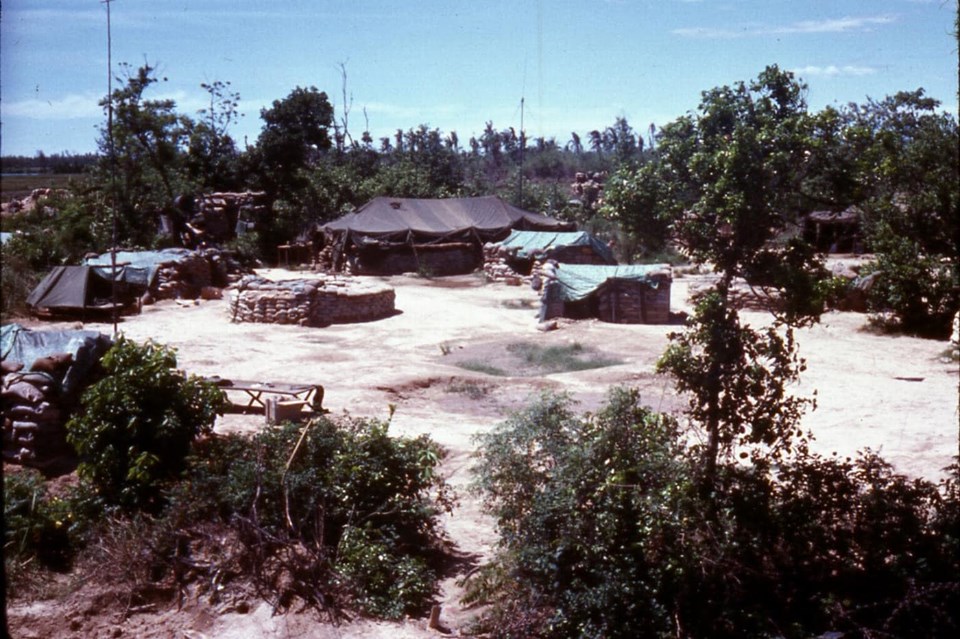 Based Marines on the island. Source: Phil Seymour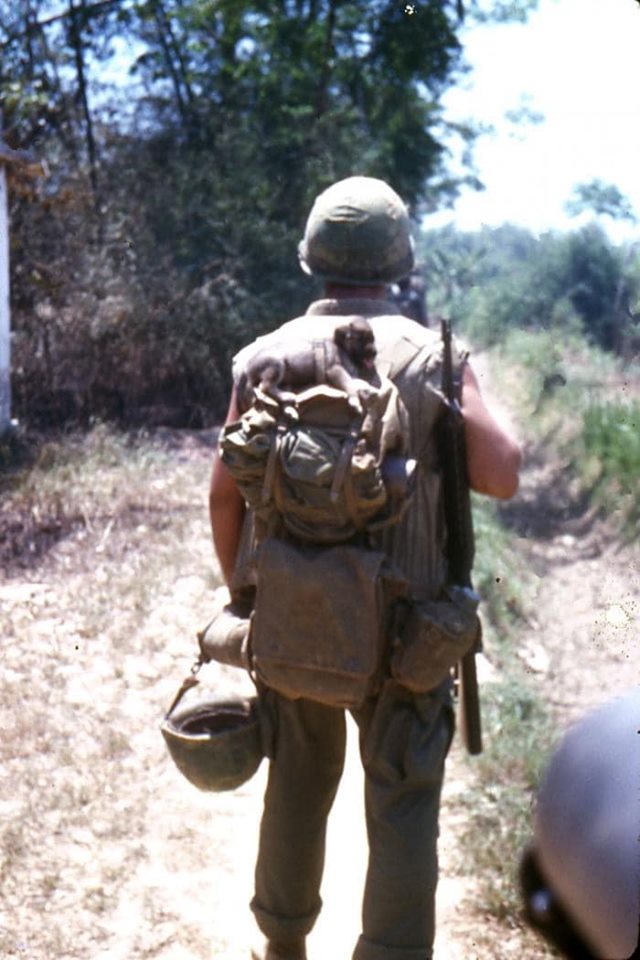 Phil and dogs Boot on backpack. Source: Phil Seymour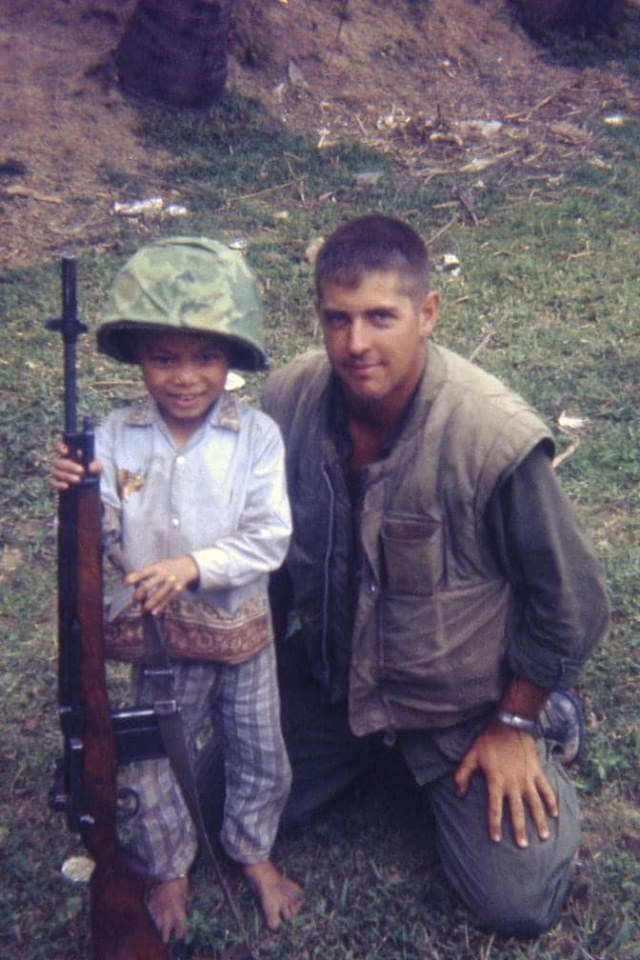 Cam and Phil Seymour year 1967. Source: Phil Seymour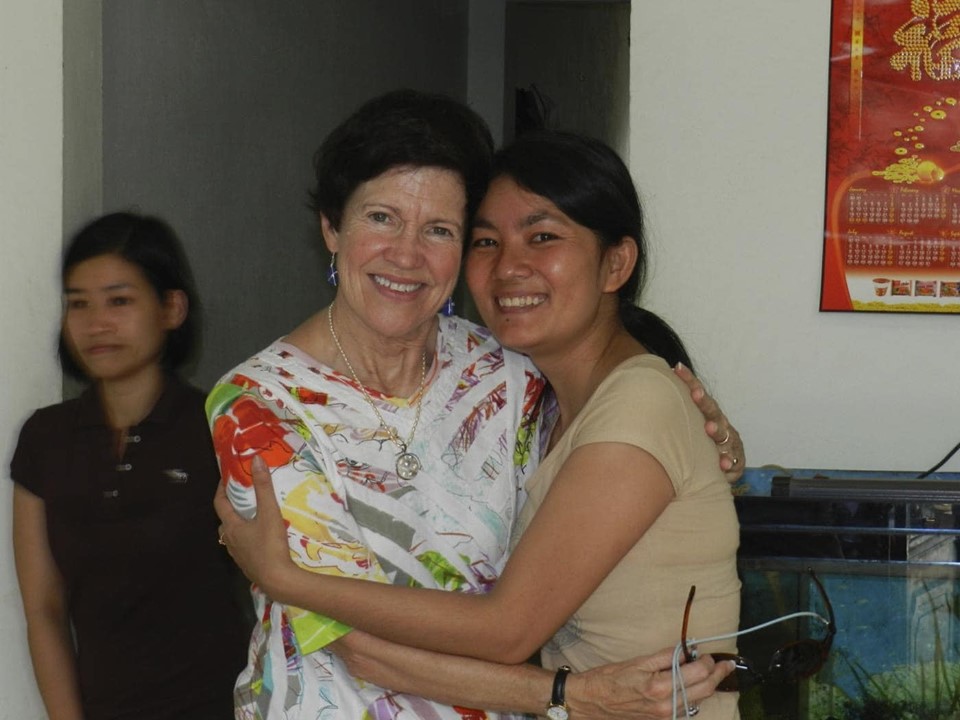 Lynne Seymour and Vy, Cam's daughter. Source: Phil Seymour
East Kha translation: A Timely Reunion Across Four Decades and the Globe
Bình Luận từ Facebook
Mai Viet Hung
Hope TT Trump will promise something and kept his word for Vietnam in October 9 to.
Like · Reply · 1d
Hoa Nguyen
It touched. Never promise to children
Like · Reply · 2d
Nguyen Khuong
Tôi đọc " work " and I also …. chảy nước mắt ! Yes , the war will be over , leaving only the people !
Like · Reply · 6h