Success story of a Vietnamese scientists in the United States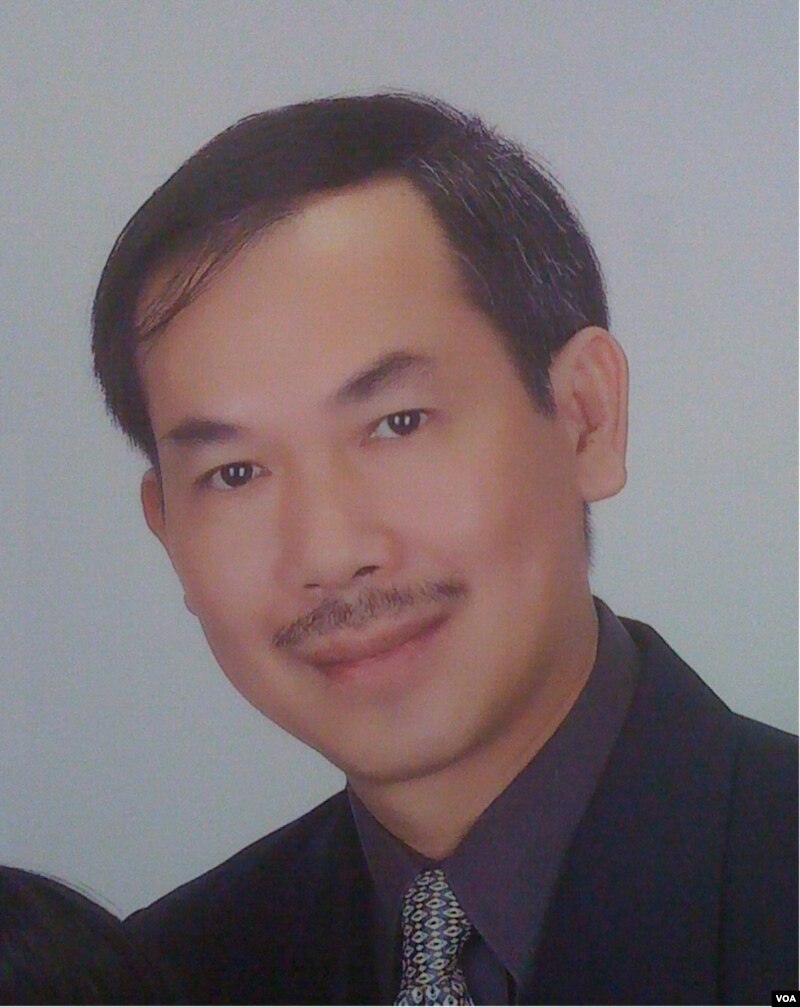 Dr. Cai Van Khiem
13.07.2012
MOT Vietnamese refugees in the United States to create new life from scratch by side walk in the shoe shop and a restaurant just stick together until the last book to be a scientist to take on leadership positions , with the 25 written by patents and numerous awards honor. It's a story of success that Dr. Cai Van Khiem Thanh Nien Magazine proudly presents to you on the show today.


Well Dr. fled to America in 1975 after the communist North Vietnamese forces captured South Vietnam. The early days to the U.S., He has struggled to work day and night waiters at restaurants every night, Late to the side to work for a shoe company, longer daylight hours he put all the lights book. There are many days when he did not get a sleep. So that only the first two years in the country, He obtained a master's degree and immediately 4 years later, his PhD from the University of Purdue, bang Indiana, with a thesis on broadband telecommunications, one of the pioneers in the industry thesis mobile telecommunications.
He worked for the company at Hughes Aircraft Company and became Chief Scientist in charge of the department's confidential communications field and radio defined by its software. When companies integrate corporate reputation with Raytheon, He was appointed Senior Specialist Raytheon, charge of the development projects in the field of communications and Multimode Multiband-global positioning system GPS III new. Year 2002, His research centers apart from Raytheon to form a separate company called TelASIC, he assumed the position of Deputy Director of System Engineering company. Here he studied the development of the mobile communications industry. When TelASIC MTI in its input 2009, techniques that he invented the product is converted into radio transceiver for remote mobile phone market. He is currently Senior Vice President in charge of Global Mobile Technology MTI its, Promotional tasked engineering research centers of companies in the U.S. and Denmark.
Settlements in California, Dr. Khiem owns more 25 by patents in the field of communications-signal and awards, including Hughes Award for its outstanding young engineers and inventors for Excellence. He is also the author of many articles published in the scientific and technical bulletins. Coming to today's Journal of Youth, Dr. Khiem will share with your child about his secret of success.

Dr. Cai Van Khiem: I also only a modest success only, What's not so important, but of course everyone has to go through the hard way, hard to achieve the results you want. It was the catalyst to his effort over. I remember years 1975 when I came to the U.S., I have time to work through without being able to sleep the minute because I have to do 2 work. I'm a waitress at a restaurant and a shoe company. At the restaurant I do, I came late Footwear, the day I had to learn to final test. Do I earn about shoemaking 1,25 dollars / hour. Food and restaurant owners make money thanks to 'tip'. Then, Purdue University in Indiana for scholarships to our graduate program, so I do not have to pay school fees. Where to pay me to do scientific research. So, during that period, I'm just the chance to go to school. Reminiscing back, I do not see anything called a very heavy. Perhaps because of my time in Vietnam, I have a very high tolerance. People often ride bikes to school or Honda, My daily walk 1 hour and a half to school. Finished walk home 1 half hours. I want to push myself a little bit of stamina. I feel it is a necessary struggle to exercise their endurance a little. When I go to college in Phu Tho, cycling day I went to tutoring 2, 3 place for livelihood. Things that create a stamina and later became the advantages for me in difficult circumstances.
I Trà: A person sitting on the chair Vietnamese senior executive of the company prestigious science and technology leading U.S., Dr. sense of how?
Dr. Cai Van Khiem: My dream is to find a direction, a new perspective in the field of scientific and technical. In our 35 age, they invited me to the position of Chief Scientist. About company 60 thousand employees only 9 Only Chief Scientist. I walked into this place among silver hair, I was surprised and a little shocked at first. I am especially grateful to this country because they have a very open look. If they feel they can do the job, they will open their doors to enter. Talking about feelings, I feel very honored for me personally and for the people who work with me. I have a greater responsibility, how can we satisfy those responsibilities, I feel happy and. I am always happy with his work. Besides my coworkers are giving me exciting moments shared bu c.
I Trà: From the elevated position until the patents and awards, meaningful achievement How to Dr.?
Dr. Cai Van Khiem: The degree or patents that, While his invention and, it becomes the element death, ie what has happened. It can bring me happy memories of moments alone, but what makes me most excited is the problem that we are facing now and in the future. Into the, sometimes I do not pay much attention to the accomplishments achieved since that is what has been achieved and. Many of his key achievements as well as the former lost meaning because the fat molecules, element is in the present life and future. I want to focus and find my new happy hour in the solution of new problems.
I Trà: It can be said of Dr., success and achievements are constantly striving process, can not stop.
Dr. Cai Van Khiem: Yeah yeah.
I Trà: Looking back road went through with one word to describe briefly about it, What doctors say?
Dr. Cai Van Khiem: That way each person must find their own purpose, direction, and his happiness lies somewhere. If we do not like it, success surely if there is only limited. So, we must find pleasure in work.
I Trà: Many people today evaluate success based on two main factors. One is education. Second is leadership. Whether this is the true measure? There may be other more successful path is outside the two pedals and academic leaders or not? Just as a scientist, both in a leadership position, his vision of the role and importance of spiritual education and youth leaders for the stars?
Dr. Cai Van Khiem: The Vietnam put success on academic issues. That is to be successful by way of education, Using that as a springboard to success. That does not guarantee it. In the U.S. as you know there are also cases, such as Bill Gates, become the most successful. I think there are many methods lead to success, definitely not to go through the curriculum. However, when we go to school, we learn how to make people more. So, I think the way to school is very important, help us know how diplomacy, how to work, way of thinking. If we follow the pattern formed through education or administration, that's just the only limit. Success for me is to achieve what I want to help society.
I Trà: Vietnamese people in the United States there are many successful examples, the name of the story of Dr. Khiem played a part in that. He can feel how?
Dr. Cai Van Khiem: I am sure that our Vietnamese people have a lot of success. There is a little contribution, I feel very proud and feel very happy. The U.S. has a very wide open arms for me, give me this opportunity. I feel very happy. U.S. Environment helped us achieve a higher success. For example, in Vietnam there is a limit to the members or children of new party members hold key positions. This limits the number of people who are less successful. The work environment at the U.S. Open Full, training a lot of people who are successful and comfortable. It is a stimulant to help this country succeed. In my, we should extend the window of opportunity for people, should use those capabilities. As a work of the U.S. in this, I feel very comfortable.
I Trà: Doctor just said to 'stimulants' that American society helps individuals in society have more chance of success, ie people are more diverse opportunities. As for the 'stimulant' help for a variety of scientific inventions such as this is what Dr., sir?
Dr. Cai Van Khiem: Stimulants that I have a passion for new experiences looking for work. Some people just happy to finish work. There are those who want to solve the job done and then go home. Doing science requires passion. Stimulants for me is finding new methods. I went to school time doctoral program at Purdue University, there is a dilemma in my thesis. Every night, before going to bed and in my sleep, I keep thinking about the problem. I found an explanation about 2-3 get up in the morning and write on paper. When I make firm Hughes, there are some difficult problems, I left 6 months to find a solution to almost all communication systems combined together.
I Trà: If there is one piece of advice for young people from their success stories, What doctors say?
Dr. Cai Van Khiem: First, talk about ways to succeed, we need to keep a dignified status, a willingness to work, and try to cultivate knowledge. The people around her that is capable, they will put themselves into a role as the promotion of more. Americans have the administrator role is the role of trust. I create trust through his actions, work status, and their willingness to work. They may find themselves working, they will give you the opportunity. If those around you do not open the door for us to go, we can not in any beautiful flower garden. Second, I have to find purpose, direction, and associates to work together and share the results with each other. There are people working together trying to hide their thoughts to keep for their own reward. Things will become so trivial and not happy. Should enjoy working with people around her collaborators.
I Trà: Sincere thanks for Dr. Khiem Thanh Nien Magazine VOA this discussion.
Dr. Cai Van Khiem: Thank you listeners track.